Floor Guide

The Roadside Station was opened in Abira Town on April 19, 2019.
The purpose of this place is to gather local specialties such as agricultural and livestock products and processed products,
local tourism information, historical and cultural knowledge, and create interactions and connections inside and outside the town.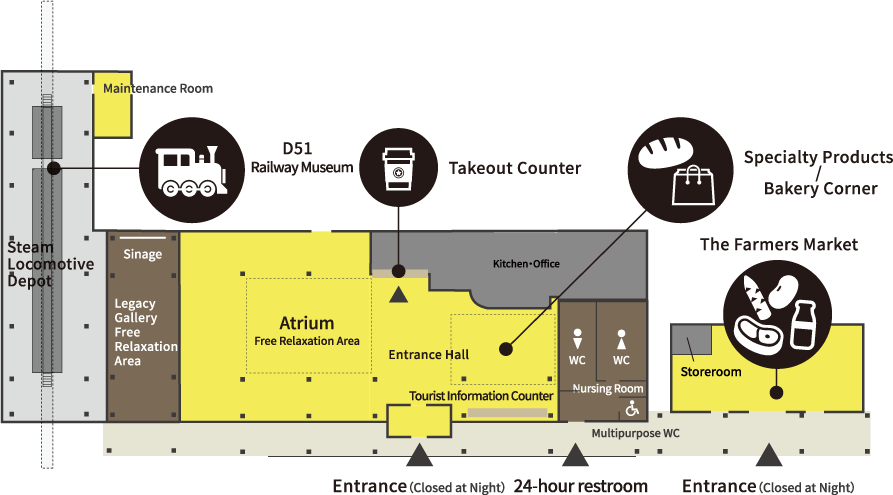 Oiwake district developed as a railway base. This station is annexed to the Railway Museum that displays its history. Along with the steam locomotive D51 320, the Hokkaido limited express train "KIHA 183 series" will be exhibited and stored outdoors.

The atrium is a spacious room with a high ceiling. The Legacy Gallery exhibits the history of Oiwake District and the Hokkaido limited express train "Kiha 183 Series".

You can enjoy a variety of take-out food, including soft serve ice cream made using KANRO, a local specialty fruit, and aged curry which is the special menu item produced under the supervision of restaurant YOSHIMI for supporting earthquake recovery. Various kinds of drinks are also available!

Inside the facility, you can find a shop, which has a rich selection of specialty products from this area. High-quality cheese, processed meat products such as hum and sausage, and freshly baked bread at the bakery are also available for sale. You can get original goods at the souvenir shop.

Antique-style luxury 24-hour restrooms. We are fully equipped with multi-purpose restrooms and nursing rooms for those with children and babies.

"VEGESTA" is the Farmers Market that sells local fresh vegetables. The group of producers, consisting of about 60 members from neighboring cities and towns, will provide you fresh vegetables harvested early in the morning and various processed products.
(※Open only from April to October)

For the first time only, you are required to register your password and e-mail address. Service can be used for up to 60 minutes per entry.
*Available for 24 hours a day and 365 days a year

●If you have problems with registration,
Click "Michi-no-Eki SPOTs SET UP GUIDE (External Website)"

Quick chargers for electric vehicles have been installed at the parking of D 51 Abira roadside station.

【Hours of operation/Payment】
● 24 hours (no holidays)
● Maximum charging time of 30 minutes per 1 charge.(card reader, QR code)

【Card issued by Nippon Charge Service (NCS) (card reader)】
● NCS Card:15 JPY/minute
Please contact the company that issued the charging card.

【"Eco-Q Den"payment system Operated by Enegate Co., Ltd. (QR code)】
● QR code: 200 JPY for the first 10 minutes, 100 JPY for every 10 minutes. The charge is 500 yen at maximum. (tax excluded)
The customer should have a mobile phone that can read QR codes as well as a credit card at hand, and sign up for the certified billing system "Eco-Q Den".

【Quick Charger】

| Manufacturer | Model | Rated output |
| --- | --- | --- |
| Nichicon Corporation | NQC-TC253E-C | 25kw |
Operation Hours
Abira D51 station Roadside Rest Area

9:00 ~ 18:00

(April-October)

/

9:00 ~ 17:00

(November-March)
The Farmers Market

9:00 ~ 17:00

(April-October)
Closed : December 31- January 3 (Except for Parking and Public Restroom)
*All facilities may be closed on other days due to preparations of exhibitions.
We publish the latest information on our website.

360°Panoramic View!